Welcome
I'm Dionne Marie. I've been reading tarot cards for 21 years now for friends, and have been phone reading professionally for a little over nine years on Keen.com.
I work off the sound of your voice, so I will ask you how you're doing when we first connect. I don't need much in terms of information from you, just a direction that I need to run in. My readings tend to go rather fast after we get started, with a lot of information. As a result, it's usually a good idea to have your questions written down and keep a pad and pen close by for notes. As a rule, I really don't go past a 2 year time frame. I can give you general time frames (I have found that it's almost impossible for me to get an exact time frame all the time), physical descriptions, and event descriptions. I can't do names, exact dates or geographical locations - I've tried it in the past and the results weren't pretty. I will also never claim to be 100%. I'm human and just like you, have my bad days.
I am rather blunt and sometimes a little too honest, but I do try to temper both of these traits with compassion. I won't lie to you, so please don't expect me to. Don't worry about the nature of your questions - I've probably heard it before and it's really difficult to shock me. Remember, I'm here to help you. Your calls will also be kept confidential as well.
I use several different tarot decks, so if you have a preference, please let me know. They are the Rider-Waite deck, the Tarot of the Cat People, and my newest acquisition, the Quest Tarot deck. This deck is incredibly involved as it uses so many things in the cards themselves, such as runes, i-ching, astrology, gemstones, letters and more, so your reading may take a little longer with this deck for me to get all the information that it will send across. This is a great deck for email readings as well.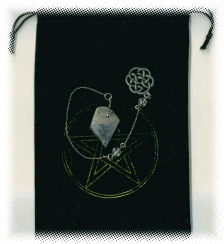 I also use a pendulum to help with yes or no questions, so if you have a lot of them, let me know. These types of readings will go a lot faster with a pendulum in use! Let me know if you have a stone preference for the pendulum reading. I have a steel, turquoise, amathyst, citrine, carnelian, adventurine, malachite, smoky quartz, labradorite, rose quartz, tigers eye, and aqua marine. If this is the reading that you prefer, make sure to write your questions down before begining the call, this way you don't forget what you need to know!
DISCLAIMER: Please note that you must be 18 years of age or older to call. Any advice or guidance you receive is not a substitute for professional advice that you would normally receive from a licensed professional such as a doctor, psychologist, lawyer or financial consultant. I will not be responsible for any interpretation made or used by the recipient of the information.
Windleopard.com © 2011